AROSA
Passau to Passau - 4 night Danube Cruise
DAY 1:

Engelhartszell (Passau) (Embarkation)
Passau is a picturesque city located on a peninsula where the Inn and the Ilz join the Danube. The predominantly Baroque city has always been shaped by historical events. Its tourist attractions reflect its rich history. Passau is also called the "gateway to the Black Sea".
DAY 2: Bratislava
Bratislava has been the capital of Slovakia since its independence in 1993. Bratislava was also the capital of Hungary from 1536 to 1784. A visit should begin at the castle, which offers spectacular panoramic views over the "Beauty on the Danube". The Old City presents a fascinating network of attractive squares and winding lanes.
DAY 3: Vienna
Vienna, the capital of Austria, is known as the city on the blue Danube, but today the main river is actually detached from the inner city and only the Danube Channel runs through the city. Vienna is still one of Europe's most seductive cities, however, and is worth a visit not just for its incomparable cultural treasures, the pomp and elegance of former glory, but also for its traditional coffee houses.
DAY 4: Linz
Arrive in Linz after lunch. Charming town to explore on your own or take the mini train on a tour of the city.
DAY 5: Engelhartszell (Passau) (Disembarkation)

Your cruise comes to an end this morning as you disembark in Passau after breakfast.
Engelhartszell (Passau) to Engelhartszell (Passau)
| | | | | |
| --- | --- | --- | --- | --- |
| Day | Port | Arr | Dep | Comments |
| 1 | Passau (Germany) | | 4:00pm | Embarkation 2:00pm |
| 2 | Wachau Passage (Austria) | | | All day cruising |
| | Vienna (Austria) | 1:30pm | | Optional city tour of Vienna with free time |
| 3 | | | 6:30pm | Optional tour to Schoenbrunn Palace |
| 4 | Linz (Austria) | 2:00pm | 11:00pm | Afternoon and evening to experience Linz |
| 5 | Passau (Germany) | 7:30am | | Disembarkation 8:00am |
- subject to changes -


2018 Per Person Cruise Only Fares
Departure
Ship
Cat (S) Deck 1
Back Deck
Cat (A)
Deck 1
Cat (B)
Deck 3
Panoramic Window
Cat (C) Deck 2 French Doors
22-Mar-18
Arosa Donna
$617
$755
$876
$944
26-Mar-18
Arosa Donna
$617
$755
$876
$944
30-Mar-18
Arosa Donna
$617
$755
$876
$944
03-Apr-18
Arosa Donna
$617
$755
$876
$944
17-Nov-18
Arosa Donna
$617
$755
$876
$944
**Please note that this is a bi-lingual ship with information provided in both English and German, and an international cruise host on board.**
REGULAR Rate includes: cruise and port taxes, listed INCLUDED excursions, and a beverage package - Soft Drinks, as well as tea and coffee specialties, Beer, sparkling white wine, Cremant and Prosecco (in a glass), as well as open wines and daily recommendations from the wine menu (by the glass), Cocktails and long drinks throughout the day and evening. Sightseeing excursions are not included and can be booked onboard.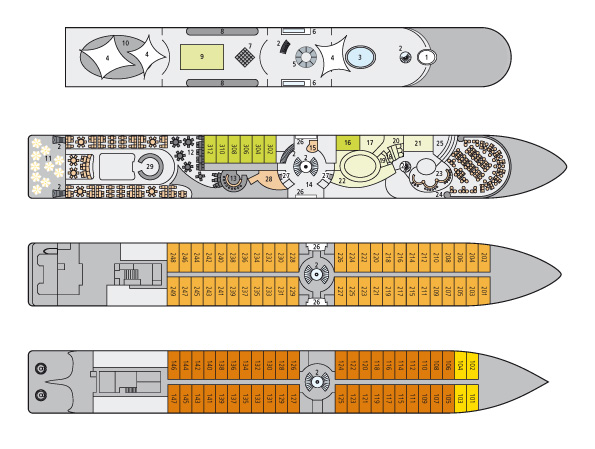 Deck 3
Cabins are Cat B with
panorama windows

Deck 2
Cabins are Cat C with
French doors

Deck 1
4 front cabins
are Cat S
Other cabins are Cat A