Enjoy the Saone River When Visiting Macon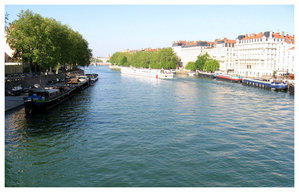 Macon is a small and beautiful town situated on the banks of the Saone River. It is situated in the Saone-et-Loire department of France and is one of the exuberant and youthful towns of the same. It lies towards the south of the Burgundy region, north of Lyon and near Cluny. Macon is the southernmost town of Burgundy and has a distinctly Mediterranean feel.
The history of Macon dates back to over 2000 years. Due to the historical position of this French village as a significant border town to the east of France and on a principal trading route, Macon flourished extremely well. Like several other towns in Burgundy, today Macon and its adjoining area are renowned for local wines.
Macon though has a few prominent monuments; it is a wonderful place to spend some time. The part of the town along the banks of the Saone River is the main attraction for visitors. They especially love the view across the river to the town from the opposite bank with the cathedral towers overlooking the skyline.
The Old Cathedral of Saint-Vincent- built between 11th and 14th century-is the best part of the town. Though, unfortunately, most of the actual structure is no longer there, the remaining part such as the octagonal towers and the imposing entrance gives a sense of the original. The models kept inside the cathedral help you to imagine the original structure.
Another highlight of the town is the New Cathedral of Saint Vincent built in neo-Romanesque style in 1860. This is also a beautiful edifice with two large bell towers crowned by stone spires. The anterior façade of the cathedral has three stone doorways enclosed by distinctly carved stonework, particularly the larger central door.
The Museum of the Ursulines is yet another attraction of Macon. It is situated in the 17th century Ursuline convent and has various items on display dating back to the long history of the region and the people who lived near Macon.
And don't forget to visit the excellently preserved apothecary which is now a museum on the ground floor of the town hall. Even today, it has its original 18th century furniture and a wide range of pills and potions from bygone era.
Book your Provence River Cruise and Enjoy Macon
Our Provence River Cruise will be an ideal choice for you to visit the attractive town of Macon. Book your holiday with us today!
For more information contact: Europeanbarging, 888-869-7907, jan@europeanbarging.com