The Saint Louis is a charter only, luxury barge accommodating six passengers in cabins that can be configured as twin or double beds.   With en-suite shower facilities, retractable clothes lines, bath robes, hairdryers, heated towel rails, full length mirrors, and ample wardrobe space, you will be comfortable in your temporary home.
The salon on the barge includes a fully stocked open bar, comfortable seating area, coffee maker, music system with CD's and Wi-Fi available.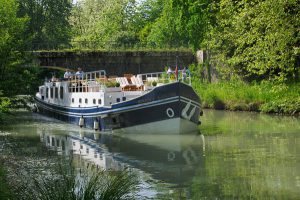 Saint Louis has one of the largest open sundecks of any barge of comparable size where you will be able to relax and dine whilst enjoying the peace and tranquility of this wonderful, secluded canal. The sundeck is easily accessed via wide stairs directly from the salon.
Saint Louis cruises in South West France where the finest fruit, vegetables, meats, cheeses and wines of great note are all produced.  Because of the outstanding quality of our ingredients and their freshness, our ethos in the kitchen is: cook it simply, cook it lightly, embrace seasonality and avoid heavy use of sugar, salt and fat, let the flavor and texture of the food be the focus. Over the past 6 years the chef Martin, has worked with some of the finest Michelin Star chefs in France, Biasibetti and Pourcel. His training and extensive knowledge of French cuisine and his love of food shows in every dish he prepares.
France is renowned for its cheeses and no meal would be complete without an offering of the area cheeses. A selection of cheeses are chosen each day to create cheese boards that may include dried fruits, nuts and honey for guests to enjoy.
Pairing wine with food is an art and the barge owners work closely with their wine distributor in St Émilion, himself an executive chef, to bring guests a wide variety of wines of great quality from across this region that are specifically selected to complement the food aboard the barge. The barge has an excellent cellar and carry approximately 600 bottles on board.
The enjoyment of food is central to what we do; it is not only a taste experience it is also a visual one. Each evening guests sit down to a different table setting featuring a variety of themes throughout the week.
The Saint Louis cruises the Bordeaux area, and offers 2 cruises:  Bordeaux Area between Castets en Dorthe and Serignac sur Garonne.  The other itinerary is a Gascony itinerary cruising between Boe Port and Lacourt St Pierre.  Some of the highlights of these cruises are:   The Lily Gardens that inspired Monet, 12th century hill top town of Lauzerte, Moissac Abbey and Cloisters, the town of St Emilion, A 1st Grand Crus Chateaux, 12th Century town of La Mas d'Agenais and its church, with an original Rembrandt painting of Christ on the Cross, Port Chateau d'Arche, Serignac and the local weekly market at Valence d'Agen.
Check out the itineraries offered by the Saint Louis Barge.  We also have videos on the Saint Louis barge, the cruising area and the gourmet food to be found on the Saint Louis.  888-869-7907 Europeanbarging.com