Those who have travelled to Europe will agree to the fact that there are many people riding bikes on the road. Many years back when European cities were being developed, they were arranged around a hub and designed in such a way that residents could live within a practical distance to the city center.  Today, many people in Europe prefer using bicycles to commute. Countries like Netherlands and Germany have made it easy for people using bicycles as a means of transport by weaving bike paths and including stoplights on roads.
Europeanbarging is pleased to offer cycling options on AmaWaterways river cruises in Europe.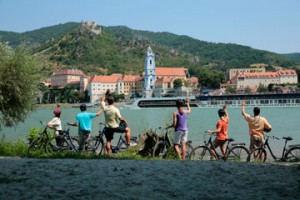 "Riding bicycles is a convenient, healthy and beautiful way to move around the city. AMA Waterways gives you an opportunity to explore amazing places in Europe. AMA Waterways is one of the first river cruise lines to carry bicycles on board, so that customers can experience biking alongside captivating riverside pathways." Jan Baumgartner, Europeanbarging
If you are looking to join the exclusive guided bike tours or discover Europe on your own, there are many ways you can do this on a bicycle during your cruise.
There are English speaking guides on the bike tours. As you ride your bike through historic villages and grand capitals, you will learn more about the history of the place you will be cycling through.
Whenever you feel like venturing out by yourself, you can always jump on your complimentary bicycle whenever you want and cycle down the riverside path to discover more. You will be provided will locks and helmets.
Whenever you cycle through Europe, you will have a great feeling that makes you feel good-a feeling of connection. You will be discovering the history of the destination and local culture, which is very important in creating an unforgettable memory that you will share with your friends and family.
Cycling opportunities include:
• Cycle through Vienna to discover Klosteneuberg and enjoy a cup of coffee and cake
• Cycle through Bamber, a historic town and also UNESCO World Heritage Site and discover its famed market gardens and breweries.
• Cycle through Antwerp and discover fortress, hidden quarters and museums
AmaWaterways offers its customers a unique way to discover European sights and scenery. Most importantly, there is no charge for using the bicycles on board, and as a guest, you have the freedom to venture out on your own.
Additional information is available from Europeanbarging.com 888-869-7907