http://www.europeanbarging.com – (888) 869-7907 ~ River cruises on Arosa ships are wonderful adventures, and feature a wellness spa staffed by highly skilled personnel in the state of the art SPA-AROSA.
How about a pampering holiday far away from your stressful everyday cares, accompanied by wonderful views of breathtaking landscapes?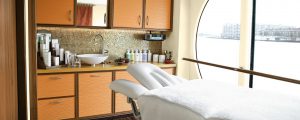 On board the A-ROSA ships, we not only offer our guests the unique combination of health and beauty, nature and city breaks, but also a very special kind of luxury: time for themselves! We place a lot of emphasis on relaxation. The best way to do this is to enjoy the spacious on-board SPA area, whether in the sauna or during a soothing massage or beauty treatment. Our trained staff are already looking forward to welcoming your guests.
The Spa Arosa includes: First-class spa products, Generous SPA-area, Professional trainers, Beauty and cosmetic treatments, Panorama sauna as well as bio-sanarium, Whirlpool on the deck.  There is also a fitness room, sauna, whirlpool or swimming pool on the ships.
Wellness Cruises on the Danube are also offered. Arosa offers 3 – 14 night cruises on the Danube, Douro (starting in 2019), Rhine, Rhone, and Seine rivers of Europe.  Rates include the cruise, all meals, beverage package and included Wi-Fi.
Contact us today to get more information.
Europeanbarging And River Cruises
25132 Oakhurst Dr #130
Spring, TX 77386
United States
(713) 240-6753
(888) 869-7907
jan@europeanbarging.com
http://www.europeanbarging.com
https://plus.google.com/u/0/b/104848230144412828400/104848230144412828400/about
Our other videos:
Cruising on Arosa Cruise Line

Arosa Stella

Arosa Flora

Dining on Arosa River Cruises