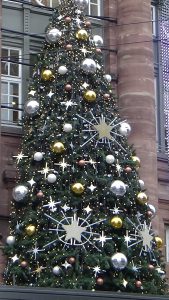 The Christmas Markets in Cologne are one of the 2 most visited markets in Germany, following behind Dortmund, with over 4 million visitors each year. Cologne is a stop offered on Christmas Market themed Rhine River Cruises. In Cologne, you have a choice of seven Christmas Markets.  Each Christmas Market features a different theme.
The entire city of Cologne comes to life during the holiday season like a Christmas Celebration Theme Park. There are seven markets, each with a unique and fun twist, to entice visitors of all ages and backgrounds. Regional specialties like baked apples, cinnamon cookies, chocolate and mulled wine will enthrall the senses – as will a host of delicious, sugary desserts.
The largest and arguably most spectacular of the markets is the grand Cathedral Market. Centrally located in the Cathedral Square of the city center, next to the Cologne central train station, wooden pavilions offer: wood carvings, children's toys, and other holiday specialties, as well a a great variety of holiday food and cider. A must stop is the delicious chocolate workshop.   The market stalls surround one of the largest Christmas Trees in the region.  Next to the tree is a large stage where a variety of live music performances are held.
Another popular Christmas Market is Neumarkt.  this is the oldest Christmas Market in Cologne 'Market of Angels' Angels dressed in white and glittering powder spread cheer as they walk past rows of charming booths featuring Holiday décor.
Next to the Chocolate Museum, the Harbour Christmas Market celebrates Cologne's maritime history with a three-mast wooden boat 50 feet wide and docked in the harbor serving mulled wine specialties out of its hull. Pagoda tents with pointed, billowed roofs continue the maritime theme reminding you of the planks and sails of a ship. "Rhine Pirates" wander through the park, delighting guests with sailor's yarns and pirate juggling.
At the Old Market or Alter Markt, Gnomes lurk in every nook and cranny here, celebrating the legend of a curious wife attempt to get a glimpse of the fabled creatures causing them to flee. There are alleyways of specialty foods, fashion accessories and artisanal gifts also, a roundabout puppet theater and a special Santa Claus Quarter.  Visitors will be thrilled to find a spectacular skating rink.
Christmas Avenue is another new Christmas market holiday celebrating the season in LGBT and old German style. The annual festival is located in the heart of the gay district. You will find Pink, purple and sometimes glittering chalets, pink nutcrackers and purple pottery.  Along with more traditional gifts.
The idyllic market on the Stadtgarten, full of unusual holiday handicrafts, and the charming Rudolfplatz are other fun spots. A small green train, the Christmas-Market-Express, drives through streets of the old city and links visitors to four of the major markets.
Typically the Christmas Markets open around the 3rd – 4th weekend in November and stay open till Christmas Eve.
Anytime of the year is a good time to book a Christmas Market River Cruise, whether a short 5 night or a longer 14 night.  When cruising on a Christmas Market themed cruise, you have the opportunity to visit Christmas Markets in several towns and countries.  Check out our Christmas Market Cruise itineraries and our Cologne Christmas Market video.
Europeanbarging.com   888-869-7907