Winding through the hillsides of France, Luxembourg and Germany, the Mosel (also Moselle) River weaves a watery path for travelers to follow through breathtaking vistas sprinkled with ancient castles, picturesque villages and steep-sloped vineyards.
Enjoy Germany's Oldest Wine Region on a Mosel River Cruise
Riverbanks lined with black alder and willow trees combine with a carpet of vines to create a magnificent flora for rare animal species to roam through Germany's oldest wine region. In this charming landscape, passengers on a Mosel River Cruise are transported to a world of cobble-stoned hamlets, legends and wine tastings.
Your Mosel River Cruise Explores German Winemaking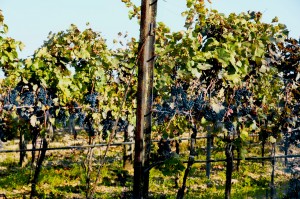 Winemaking in the Mosel River Valley began more than 2,000 years ago, when the Romans planted vineyards to provide a local source of wine for their troops. Viticulture thrived in the region, and throughout the Middles Ages villages grew up around the winemaking industry.
Early Roman offerings were described as light-bodied and austere, but the grape that would make the region famous arrived in the 15th century. Count John VI of Katzenelnbogen documented the first known reference to the Riesling grape when he listed an entry of "22 shillings for 'Rieslingen' vine cuttings for the vineyard" in his storage inventory log. Thus, began the tradition of the crisp, sweet liquid gold that dominates the territory to this day.
Vineyards in the Mosel Wine Region face south or southwest to maximize on the 1,370 hours of sunshine each year that produces what top wine experts consider the best white wine grapes in the world.
Through this 75-mile stretch of the Mosel River, known as the Mosel Wine Region, passengers on the "Castles & Wineries of Germany" Mosel River Cruise can enjoy wine tastings at the many exclusive, family-owned wineries along the riverbanks and tour the area's impressive ancient castles.
Len and Marisa Crispino of Foreign Affairs Winery will serve as hosts on this wine-themed cruise through Mosel's endless loops and bends. After living as ex-pats in Italy in the early 1990s, Len and Marisa returned to Ontario and planted their first vines. Inspired by the Italian wine-making process, they use a unique grape drying process known as appassimento (or the Reduction method).
During this Germany wine cruise, Len and Marisa will share their knowledge of wine and tales from the land's storied past, as passengers enjoy a leisurely cruising pace that lends to the Mosel region's hypnotic charm.
Departing from Nuremburg on Oct. 31, this Mosel River Cruise will wind its way through quaint riverside villages, among the most notable, Bernkastel, home to the famous Bergweiler Winery, and the charming village of Cochem-Zell, where the majestic Reichsburg Cochem Castle rises more than 300 feet above the river.
Prices for this enchanted tour start at $2,599 per person, with an additional 5-night land program available for $3,839.
Perfect for wine-enthusiast groups and organizations as well as individual wine lovers, this Germany wine cruise fills up quickly, so please call and book your expedition through the famed Mosel Wine Region today.