Travel to
Stuttgart

Germany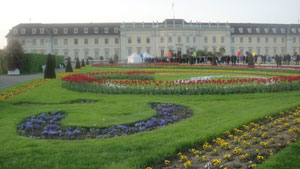 On a recent short visit to Stuttgart I was pleasantly surprised by all the city had to offer.  On my first day in Stuttgart I toured past the Old Palace and the New Palace, built in the 16th century for the Kings of Wurttemberg.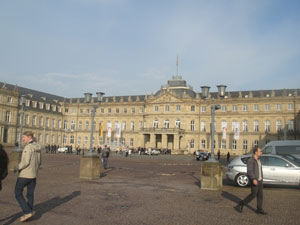 The New Palace is a magnificent Baroque palace complex with elaborate gardens and a Palace Square.  The next day I visited an even more splendid palace – Ludwigsburg Palace, known as the "Swabian Versailles".  Ludwigsburg is Germany's largest Baroque place complex preserved in its original form.  Our tour was hosted by guides in elaborate period costume.  The palace is fully furnished in beautiful period furnishings.
Then on to the spectacular MercedesBenzMuseum.  Nine levels of the spiral-shaped building featuring the history of Mercedes Benz from conception to now, as well as showing important historical events along the way.  The museum also showcases 127 years of automotive history from the first engines, transportation vehicles and over 160 cars from the beginning to now – with some really beautiful old classic roadsters and sedans.  Finished up the tour with a nice dinner in the museum restaurant.

The Treats of Stuttgart
Had to sample a few to make sure of my favorite again – dark chocolate hazelnut or milk chocolate coated cookie – both as great as remembered.While in Stuttgart, I reacquainted myself with the Ritter Chocolate bars – and found that they are made just outside of Stuttgart.
I definitely need to go back for a longer visit.  There is the hop on hop off tour of the city – I always try to take one of these tours when I visit any new town as they give me a quick overview of where everything is and they are a great value for money as you can get on and off the bus as many times as you like in a 24 or 48 hour period.   I want to be sure and visit the Stuttgart market hall next time as it looks like a taster's paradise.  Built in 1914, with 32,000 square feet, this art nouveau styled market is a must visit for "foodies".  And then there is the wines from the Stuttgart Region.  The Stuttgart Wine Trail is just a short hop from the main train station in Stuttgart.
Stuttgart, is the only German city to have it's own wine-growing estate.  The city hosts an annual wine festival to be held from August 28 – September 8 in 2013.
Christmas time might be a good time to return as they have 3 different themed Christmas Markets that are reachable by public transportation – Stuttgart Christmas, the Baroque Christmas Market at the Ludwigsburg Palace and the Medieval Market at Esslingen.
With Stuttgart having so much to offer with the many sites and festivals, any time is a good time to go.
Cruises on the Neckar River feature stops in Stuttgart.
Contact us to book your Neckar River Cruise and enjoy the Stuttgart sites when it stops in that remarkable city.