Experience a Wine Cruise along the Rhine and Mosel Rivers
AMA Rhine and Mosel Wine Cruises are designed with wine connoisseurs in mind. However, did you know the historic beauty of the Rhine River makes this trip a Germany Castle Cruise as well? Take the Rhine River Cruise for the castles and the Mosel River Cruise for the vineyards – AMA combines the two treats in one deluxe package.
Cruise and Visit the Wine Villages of Germany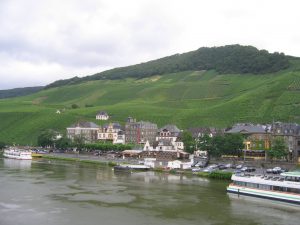 Explore the world's oldest wine Road, the German Wine Route. Tour around the wine villages in Germany looking for the biggest wine barrel in the world, large enough to house a restaurant. Try pronouncing "Gewurztraminer" while you enjoy this crisp, spicy wine in Germany's oldest vineyard. Wine villages in Germany are surrounded by castles, palaces and Roman ruins. Keep your camera handy to snap shots of romantic corners in these picturesque villages.
Wine Cruise
The wine cruise meanders along the Rhine and Mosel Rivers, waterways famous for their scenic views. A Rhine River Cruise includes castles surrounded by emerald green landscape. The Mosel River Cruise offers a vineyard-rich countryside. Step off the luxurious vessel straight into the heart of an ancient village, host to local wineries. Towns that boast over 1,000 years of wine history beckon with the promise of medieval marketplaces and fountains surrounded by quaint town squares.
Wine Tasting
In addition to delightful excursions to museums housing self-playing musical instruments as old as 300 years, the wine cruise offers, well, many chances for wine and even beer tasting. Enjoy sampling wines at the Bergweiler Winery in Bernkastel. Kick your heels up at a medieval wine festival in Zell. Admire the historic Cologne Cathedral before enjoying tastings of the city's famous beer, Kölsch, at the Früh Brewery. Explore narrow alleys lined with wine taverns and indulge in tastings hosted by local vintners.
Starting in legendary Paris, take an exciting high-speed TGV ride and embark on your river cruise. The Rhine offers a Germany Castle Cruise while the Mosel is nestled into twisting landscapes of vineyards and villages. The cruises feature gourmet dining, free-flowing wine, beer and soft drinks and musical performances. Enjoy informative lectures and cooking demonstrations or explore on one of many culinary excursions or daily tours.
AMA Cruises along the Rhine and Mosel rivers offer guests the experience of lavish travel and site-seeing opportunities that create lasting memories. Castles, medieval villages and vineyards hosting wine tastings are waiting.
For more information contact us at 888-869-7907  or jan@europeanbarging.com  to learn more about our wine themed river cruises in Europe.