The picturesque views of the Loire Valley are truly enticing enough to make you want to experience the romance and heritage in a Loire paddleboat cruise. There's not a minute wasted in these cruises as you explore one chateau after another discovering their secrets and hearing stories about their past.
Aptly so, Loire may be referred to as France's Valley of the Kings. The French court has been held in different areas within this location on several periods in Loire history. Art consequently flourished along this European waterway as well as evidenced by the extensive collection of privately owned works housed in royal chateaus.
New for 2022 is a 5 day Loire River Cruise aboard the Loire Princess – a 88 passenger paddle boat, cruising round trip Nantes, in addition to the current 6 day cruise.  Some of the most popular chateaux that you are likely to visit on a Loire paddleboat cruise or barge cruise are: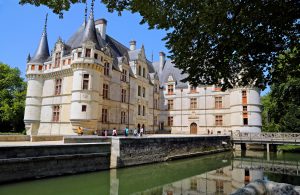 Château d'Azay-le-Rideau – built on a small island in the middle of the Indre River, the château as it is seen today was built under Francis I by Gilles Berthelot, a wealthy financier who wanted to incorporate its medieval past alongside the latest architectural styles of the Italian renaissance. The chateau is a French national monument and possesses all the refinement found in the French Renaissance.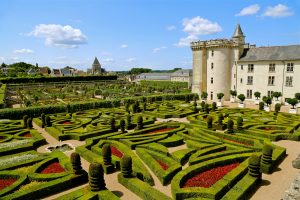 Chateau de Villandry — the renaissance gardens are the most popular attraction of this chateau, known even throughout the world as Jardins a la Francaise. To get to this chateau, guests get off at Larcay as the cruise barge moors beneath a canopy of weeping willows. French heritage is distinct in the decor, art, and furnishings throughout the interior. Outside, the gardens are lush and beautifully arranged in patterns combining water gardens, flower gardens, as well as vegetable gardens.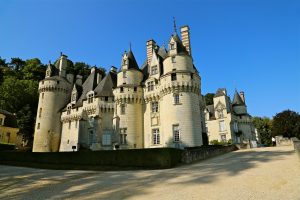 Château d'Ussé – rebuilt in the 15th and 16th centuries, this stronghold with fortified towers, turrets and steeples looks like something out of a fairytale. The castle is still inhabited today and takes visitors back to a time of legends and fairytales. It is thought to have inspired Charles Perrault when writing "Sleeping Beauty".
Château de Brissac, known as the tallest royal residence in France, it contains 204 rooms, monumental staircases and never-ending hallways. Acquired by René de Cossé in the 16th century, Château de Brissac is still owned by the Cossé-Brissac family. (Click here for more information on this interesting history of this family – you will need to click on the British Flag for English) Its park contains some magnificent shady spots under centuries-old trees, and the castle's spectacular decorations and the breathtaking Belle Époque theater are definitely not to be missed!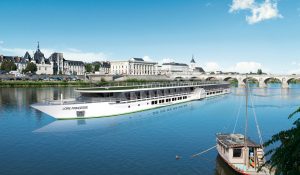 If you are looking for a laid back getaway that puts romance and history together, booking a barge cruise and going on excursions from a Loire Valley cruise is one of your best vacation options.   The 5 day cruises start at $1400 for 2022.  Rate includes the cruise, all meals, beverages and Wi-Fi.  As these ships are smaller capacity, departures will sell out quickly.  Call  now to book a great scenic river cruise.  888-869-7907