COCHEM'S Reichsburg Castle- Majestic Jewel of the Mosel River Valley 
There is perhaps no better way to tour the historically rich, scenic towns of Rhineland Germany than by river cruise. The cruises usually feature relatively small cruising vessels that have limited passenger capacity but are large on amenities, style, and service.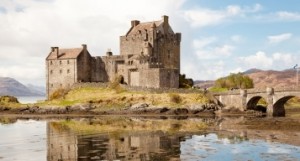 Quaint villages and conspicuous German castles are thoroughly enjoyed by the 360 degree views provided on the sun decks of most river cruise ships and barges. A favorite tour among discerning travelers is the Mosel River cruise which meanders past beautiful Cochem Germany. These unique trips often climax with memorable shore excursions to popular attractions like those found on the Mosel bike and barge cruise.
Mosel River Cruise
The Mosel river or "Moselle" river as the French call it is a peaceful tributary of the Rhine River that flows from France to Germany. The area surrounding the Mosel River in Germany is known as the Mosel River Valley, and the towns located there are reminiscent of storybook tales of the medieval era. For those who find romantic villages complete with cobblestone streets surrounded by lush vineyards and Germany castles appealing, then a Mosel River cruise is an ideal choice for a holiday trip.
Cruising down the Mosel River gives holiday travelers the opportunity to see many of the oldest towns in the heart of Europe in grand style. Depending on the chosen itinerary, passengers get to view the cities of Koblenz, Cochem, and Bernkastel just to name a few.
The cities visited are not the only appeal of this type of holiday choice; the cruises themselves are absolutely exquisite. Many cruises are taken on luxury river or barge vessels that feature five-star dining and stellar service. The all-inclusive travel packages ensure that passengers completely relax while travelling from the time they board until disembarking at the end of the journey.
cochem germany
A popular river cruise itinerary includes a trip to the town of Cochem. The Mosel Bike and Barge cruise allows passengers to conduct a shore excursion that gives them the best of both worlds when it comes to scenic views. After leaving the river cruise barge, active passengers bike to Cochem to explore the popular town.
The town of Cochem holds a very interesting past as an imperial estate complete with a castle and fortifications that was eventually lost in its entirety to the French during the 1600's. French troops razed the original Reichsburg Castle to the ground, and the castle was only rebuilt in its current neo-Gothic style architecture in 1868 by a wealthy Berlin business person who used the renovated castle as a summer home for his family. Since 1978, tourists have been able to take tours of the Reichsburg Castle. For more information about booking a cruise to the romantic Reichsburg Castle, contact us.