Cruise through Europe in September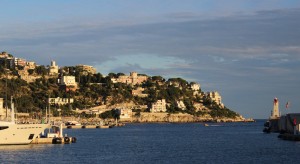 Summer is generally considered the beach season and prime vacation time for families in Europe.. Every part of Europe has its own specific cruise season length but usually the shoulder months offer both fair weather as well as fair prices.
When the tourists head home, and the humidity is lower, Europe offers pleasant weather across the continent. September might be an extension of summer's oppressive heat but the weather is usually just about right.
In Western Europe, September still is considered peak season, with tourists and residents enjoying the last outdoor festivals, trade shows and outdoor activities. While temperatures can reach up to the mid-70s, it is very pleasant for the most part. The barge and river cruise ships experience their greatest demand in September because of the mild temperatures Throughout France and Germany there are many wine festivals going on at this time and other parts of Europe are also offering many types of fall festivals. French barge cruise, German barge cruise, Spain river cruise and Douro river cruise and so on will be perfect for cruising Western Europe in September and enjoying various kinds of wine festivals, music festivals and fall festivals.
Mediterranean Europe
Mediterranean Europe also offers nice weather during September which is one of the most popular times to cruise the region, as the steamy and oppressive summer weather starts to calm down. An extremely exotic and culturally rich destination in the world, Mediterranean Europe offers several breathtaking sights ranging from the ancient stone villages and radiant beaches of Portugal to the mystical eastern elegance of Turkey. A Mediterranean cruise offers everything whether it is picturesque landscapes, sumptuous cuisines or an entirely new cultural experience. During fall, temperatures are pleasantly warm, the sun is brilliant, and the crowds are much less than in July and August. Italy barge cruise offers an ultimate Mediterranean experience.
Other parts of Europe such as Prague, the capital of Czech Republic situated near Germany and Austria are also attractive destinations which can be comfortably cruised during fall.
Many people agree that September is one of the best months for cruising Europe. The weather's gorgeous and you'll have an easier time getting into main attractions.
Tourist information offices normally stay open year-round, but have shorter hours in the winter. Opening times are less predictable, so call ahead to double-check hours and confirm your plans!
For more information contact: Europeanbarging, 888-869-7907, jan@europeanbarging.com