If you are in the mood for a traditional Christmas, visit the Christmas markets of Europe with Europeanbarging.com's European Christmas market cruises. These street markets are a holiday tradition that dates back centuries and draw visitors to the continent from all over the world.
Christmas markets are held during the four weeks of Advent, and signal the start of the holiday season. They usually start in the last week of November and last until the third week of December. Some markets, however, may stay open until New Year's.
The first Christmas markets were held during the Late Middle Ages in what is now Germany. Today, you can find Christmas markets not only all over Europe, but in many other parts of the world as well. They are known by various names, including Christkindlmarkt and Weihnachtsmarkt.
Guests not only can enjoy seasonal food and drinks but also shop for traditional crafts to take home as souvenirs or gifts. There is no better way to experience Europe than by wandering through the various markets, enjoying foods such as roasted chestnuts and warm stollen and sipping hot cups of mulled wine.
These markets also feature open-air entertainment from stages scattered throughout the site. You can enjoy performances ranging from gospel music to modern and traditional Christmas tunes. There may also be rides and other things to do such as skating.
Europeanbarging.com offers several cruise itineraries, which go down the Danube River or the Rhine River. These cruises allow you to visit multiple Christmas markets over the course of the cruise.
Its four-night Rhine South cruise starts in Cologne, Germany, where the biggest Christmas market is held in front of its historic Cathedral. You can also visit the Medieval Christmas Market, which is held on the banks of the Rhine and features jesters, minstrels and other forms of traditional entertainment.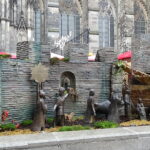 The cruise then takes you to other German Christmas markets, including Koblenz, where you can enjoy a horse-drawn carriage ride; Rudesheim, where the "Christmas Market of the Nations" has 120 stalls from twelve countries; and Fussen. You then proceed to France, where you visit markets in Strasbourg, Colmar and Mulhouse.
The four-night Danube Cruise allows you to visit Passau; Vienna, where there are more than 25 markets all over the city; Budapest, where one of the oldest markets in Hungary is held; and Bratislava.
Although the major itineraries last around seven days, there are shorter ones available. The five-day Rhine and Dutch cruise starts in Strasbourg, continues to Cologne and ends in Amsterdam. The five-day Seine cruise lets you visit Christmas markets all along the Seine, starting in Paris, and then continuing on to Rouen, Caudebec en Caux and Honfleur.
The inclusions for the seven-day itineraries include the cruise, free Internet on board, use of bicycles on the ship and meals with wine provided during dinner. The shorter itineraries include a beverage package.
There are some offers from Amawaterways and Arosa Cruise lines. Amawaterways is offering $1000 off per person on the Dec 18th departure of the Iconic Christmas Markets and $1000 off per person on the Dec 19th departure of the Christmas Markets on the Rhine. Discounted prices start at $2499 for the 7 night cruise, all meals, wine with dinner as well as a 1 hour daily happy hour, free Wi-Fi and all excursions. Discount offer ends Sept 29th 2023.
Arosa has a 4 night Danube Christmas Markets with 20% off departing Nov 29; Dec 3, 7, 11, 14,15, 18 and 19th. On the Rhine River, there is the 5 night Rhine Christmas Markets departing Nov 23, 28; Dec 3, 8, 13 an 18th. The 5 night Rhine Christmas Markets City Experience is offering cruises on the new Arosa Sena, departing Nov 23, 28; Dec 3, 8, 13 and 18th. Both cruises are offering 20% off. Discounted prices start at $578 for 4 nights and $895 for 5 nights. Discount offer ends Aug 29th 2023.
To learn more about the various European Christmas market cruises available, visit https//www.europeanbarging.com/Christmas_market_cruises.htm or contact us at 888-869-7907 or jan@europeanbarging.com