For travelers that have seen the major tourist sites and now want to experience more of Europe, and still have the comfort of every aspect of the trip taken care of, then a European barge cruise may be for them.  For travelers that are not interested in a typical cruise, this is a totally different experience.  The atmosphere is very relaxed, no formal nights, you are out during the day exploring, so they will never run out of activities.   The similarities are unpack only once, all meals and beverages included, as well as the excursions.  There are special cruises/dates for golfers, garden lovers, wine enthusiasts, and many more.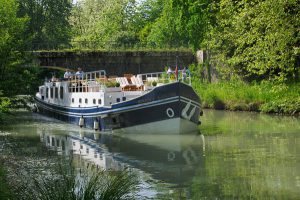 A European barge cruise is  unique way of exploring the beauty of Europe, while unpacking only once.  Drifting through the beautiful landscape, enjoying all the creature comforts of regional food and wine, and service superb in every way, while experiencing the chateaux, cathedral, tours, vineyards, and sleepy villages left behind by time.  History, art, architecture, culture, gastronomy, music, gardens, it is all there to be experienced by tours, whether by foot, motor coach or bicycle, with a Luxury Barge Cruise or Casual Bike Barge Cruise.
Barge cruise prices range from the mid $3000 – to over $7000 per person. Some of  the features of the barges that distinguish the prices between barges are the cabin and lounge space, level of food and wines provided as well as barge amenities. On the lower priced barges, you will be looking at cabins around 90 – 100 sq ft, compact bathrooms – usually with a shower curtain and small shower stall. The wines will be good regional wines. The more expensive barges will have bigger cabins – 170 – 250 sq ft with big bathrooms, big shower stalls with a glass door. Other barge feature might include: computers or internet access on board, tvs / dvds in the cabins, hot tubs or fitness rooms. On some of the ultra deluxe barges, there are wines served for the serious wine enthusiasts – featuring  premier and grand cru.
The cruise rates include gourmet meals, wine and cheese of the region with lunch and dinner, open bar with alcoholic beverages and all the sightseeing.  For a different experience, some barges offer a night out at a typical French restaurant for a meal.  No matter what level of barge cruise is selected, you will always find a great crew that will go out of their way to provide top level service and go the extra effort to make sure your cruise is truly memorable.  The crew on board will have knowledge of the areas and love to impart known and little known facts to interested passengers.  The food will always be top quality and prepared with a emphasis on pairing wonderful food with special wines of the regions.
The barge cruising areas within France are:  Alsace Lorraine, Bordeaux, Burgundy, Canal du Midi, Chablis, Champagne, Loire Valley and Provence.  Outside of France, the cruising areas are, England on the Thames River, Ireland on the Shannon River, Italy on the Po River and Scotland on the Caledonian Canal.
There is a large selection of european barge cruises in france such as: Grand Victoria, Anne Marie, Apres Tout, Clare de Lune, Colibri. Enchante, Jeanine, Johanna, Luciole,  La Nouvelle Etoile, le Phenicien, Madeleine,  Magna Carta, Meanderer, Nymphea, Panache, Raymond,  Roi Soleil, Rosa, Savoir Faire, Saroche,  Saint Louis, Shannon Princess II, Cest la Vie, Wine and Water, La Belle Epoque, L'Art de Vivre, Hirondell, L'Impressionniste, Anjodi, Scottish Highlander, Spirit of Scotland, La Bella Vita, Panache and Renaissance.
We also have CASUAL BIKE AND BARGE cruise itineraries in Holland and Belgium, on the Mosel in Germany, Burgundy and Provence in France and Venice and the Po River in Italy. Cruise and bike in a very casual atmosphere with international guests.
Europeanbarging has been selling European Barge Cruise and European River Cruises since 1998.  Contact us so we can help find the perfect barge for you.  888.869.7907