Europeanbarging, an ARC accredited agency, is offering a Military Discount of 10%, for both active or veterans, on its' full line of barge and river cruise products.
Their products include: European river cruises, Short European river cruises (4, 5, 6 and 7 days) Luxury European Barge cruises and Casual Bike and Barge cruises.
The river cruise itineraries include the countries of  France, Germany, Italy, Holland, Austria, Hungary, Portugal and Spain.
The luxury barge cruises are offered on the canals of France, Mosel River in Germany, Venice lagoon in Italy, Thames River in England, Scottish Highlands of Scotland and the Shannon River in Ireland.
The casual bike and barge cruises take place in Holland and Belgium, Germany, France and Italy.
"A  river cruise is one of the easiest ways to visit multiple cities throughout Europe, while still enjoying enough downtime to have the relaxed holiday getaway you deserve.  Our spectacular cruise packages are the ideal way to travel in style and beauty."  Jan Baumgartner, Europeanbarging
AmaWaterways is rated one of the top river cruise lines in the world.  In addition to offering many different itineraries, they have many themed cruise itineraries such as wine, art, food and music.  The rates include 7 night cruise with multi choice excursions, use of bicycles to cycle the area, free Wi-Fi,  all meals including wine with lunch and dinner as well as a one hour happy hour each evening before dinner.  A wide variety of food choices available onboard.  Rates start at $2999 per person in low season, often with discounts up to $750 off.  Military discount would be additional.
Europeanbarging offers two different international cruise lines for their short river cruises:
While onboard the German/English cruise line Arosa, you will enjoy a multitude of amenities including all meals, a beverage package, free Wi-Fi and discounts on spa services.  Meals feature food stations offering regional specialties with lots of options.
Rates for your Rhine River Cruise, Danube River Cruise, Douro River Cruise, Rhone River Cruise or Seine River Cruise start as low as $1,429 per person for a 7 night cruise when booked through Europeanbarging.    For singles, there is a low single supplement charged.  Each ship has a few lower deck cabins with 3 beds that will hold 3 persons.  Children 15 and under CRUISE FREE with 1 or 2 adults in the cabin.
For the French/English cruise line Croisi, their rates include all meals, unlimited complimentary onboard beverages, including: beer, fine wine, spirits, mineral bottled water, soft drinks specialty coffees and tea as well as included Wi-Fi.  They offer optional, motorcoach and walking tours as well as active excursions of cycling and hiking.   Several of their ships feature single as well as triple cabins and elevators. A five day Rhine River Cruise starts at $909 per person.
Luxury barges range in price from low $3000's to over $7000 per person.  There are several barges in the mid to high $4,000's.  The rates include the 6 night cruise, daily maid service, bicycles on board for cycling, gourmet meals, wine and cheese of the region with lunch and dinner, open bar with alcoholic beverages and all the sightseeing.  Some barges will have a small swimming pool or spa/Jacuzzi.
The prices are based on the features of the barges and food/wines provided. On the lower priced barges, you will be looking at cabins around 90 – 100 sq. ft., compact bathrooms and small shower stall. The wines will be regional wines. The more expensive barges will have larger cabins – 170 – 230 sq. ft. with larger bathrooms, big shower stalls with a glass door. Some of the wines will be premier and grand cru.  Children are not allowed on the barges unless it is a specific children's week or a family charter.
Many of the casual bike and barge cruises are 7 nights instead of the 6 nights on a regular full service barge.  Prices range from $1940 to $2378 per person.  These barges range from  6, 20, 21, 22, 24 and 34 passengers.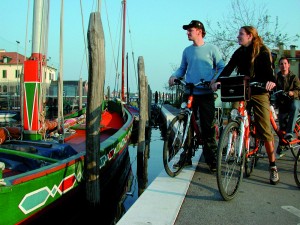 These cruises are typically for serious cyclist as the biking ranges from  20KM – 65KM per day.  Bikes on these barges are typically heavy duty bikes designed for cycling in the  area.  Many bike and barge cruises have electric bikes available at a cost of between $100 – $150 for a week.
Included in the price: 6 or 7 night cruise, guide for the cycling tours , breakfast buffet, including makings for your packed lunch, dinner (3 courses) on boat, water with meals, clean towels and  bed linen delivered half way through the cruise and bike rental (with helmets).  Children are allowed on the bike and barge cruises.
Europeanbarging welcomes all inquiries to help you find the perfect cruise.  888-869-7907