Tourist are Welcomed by Sintra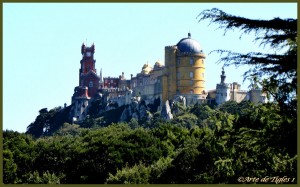 The beautiful city of Sintra is just what anyone needs to give them a feel of romanticism and feel refreshed for days to come. This romantic city gives off an aura of uniqueness and individuality. Perhaps, many tourists enjoy returning to Sintra because of these qualities
The Royal Palace is undoubtedly the dominant architectural feature of Sintra, situated in the center of the town. Probably constructed on the site of the Moorish Alcazar, its buildings result from two main periods (15th-16th centuries). The interior contains much painted and tiled decoration, but one of the most important features is the facing with tiles (azulejos ), the finest example of this Mudejar technique on the Iberian Peninsula.
Choose Romantic Features to View
Sintra is well known for its romantic architecture after Ferdinand II decided to transform a ruined monastery into a romantic castle. The castle featured many styles, Renaissance, Moorish, and Egyptian. Ferdinand II is well known for his incredible work and will forever be remembered by the town of Sintra where he put his mark. There is something for every visitor to catch each eye laid on the beautiful masterpiece. The interesting parks took over the scenery with elegant beauty that formed a visual with exotic and local tree species.
Other structures, built along the same lines in the surrounding area, created a unique combination of parks and gardens which influenced the development of landscape architecture throughout Europe.
Duoro Cruise
Located between Lisbon and Oporto, a visit to Sintra can be made as a pre or post Douro Cruise visit. We offer several cruise lines with cruises ranging from 5 – 7 nights on the Douro River.
For more information contact: Europeanbarging, 888-869-7907, jan@europeanbarging.com