Save 20% on a European Rhine, Neckar, Sarre and Mosel river cruise featuring the ports of Strasbourg, Heidelberg, Rudesheim, Cochem, Trier, Saarburg and Remich, departing Oct 5, 11 (R), and 17, 2021. Rates start at $1300 for a 7 day cruise.
Rate based on double occupancy and includes the cruise, all meals, beverage package of alcoholic and non-alcoholic beverages, and Wi-Fi. The excursion package is additional but may be pre booked at a discount or individual excursions can be pre purchased.
"This Four River Cruise visits 4 countries and cruises by historic castles, charming villages and beautiful vineyards. Catch a view of the famous Lorelei as your cruise to Rudesheim; walk among the ruins of the famous Heidelberg Castle, visit the 4h century ruins of Trier – the oldest city in Germany; tour Cochem Castle." Jan Baumgartner of Europeanbarging
You will want to arrive a day early so you can experience the wonderful city of Strasburg with her Cathedral and Alsatian architecture and canals.
DAY 1: Strasbourg
You'll board our ship at 6 p.m. After comfortably settling into your cabins, we'll introduce our crew at a welcome cocktail reception. Our ship will cast off at 7:00 p.m. for Mannheim. Join us for an evening of entertainment.
DAY 2: Mannheim – Heidelberg -Rudesheim
We'll arrive in Mannheim early in the morning. This will be our starting point for the optional excursion to Heidelberg. Known as the most romantic city in Germany, it has inspired many painters and poets by its beauty. You will have the opportunity to visit the partially ruined, red sandstone castle that sits majestically above the city, overlooking the Neckar River. Up to the Thirty Years' War, Heidelberg boasted one of the most notable ensembles of buildings in the Holy Roman Empire. While time has taken its toll, this castle's fame lives on to this day. The giant wine barrel is one of the most popular attractions. There is also time to explore the historical town of Heidelberg.
The afternoon will be spent cruising along the Neckar and Rhine Rivers towards Rudesheim, where we'll arrive in the evening. The famous Drosselgasse with its numerous cafes, bars, and music awaits you tonight!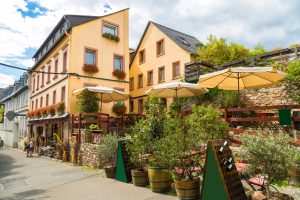 DAY 3: Rudesheim – Cochem
This morning, join us for an optional guided tour of Rudesheim.
Featured in the optional guided tour is a tour of the local vineyards on a tourist train. Then, you will participate in a wine tasting in the historic rooms of the Bassenheimer Hof. Then head to Siegfried's Mechanical Music Museum, located in a lovely, 15th-century building. This museum holds a collection of fascinating musical instruments ranging from tiny, delicate music boxes to an enormous orchestrion. This museum is really worth a visit. This is a cute town with lots of little wine tasting shops and souvenir shops. Several streets behind the main river front street are some streets with great gelato and more shops.
This afternoon, we'll pass through the beautiful and romantic Rhine Valley. We will arrive in Cochem during the evening. Join us for an evening of entertainment.
DAY 4: Cochem – The Mosel Valley
This morning, Take part in our optional guided tour of Cochem Castle. There is a mini bus to take up to the castle or you can walk up – same for the return. The Imperial Castle sits on a mighty crag over the Mosel River. We'll enjoy a guided tour of this magnificent building that dates back to 1000. After being destroyed by the French in the 17th century, it was rebuilt from scratch in a Neo-Gothic style by a local German businessman. There is time to explore this cute town.
We'll spend the afternoon cruising to Trier.
DAY 5: Trier – Saarburg – Remich
Arrive in Trier during the night. This morning, join us for an optional guided tour of Trier. Discover the Roman vestiges and heritage in Trier, the splendid view the city offers of the Mosel, and its magnificent landscape. Trier is known for its well-preserved Roman and medieval buildings, but it is also home to some impressive churches as well. We'll have a look at the amphitheater, the imperial baths, the Roman basilica, and the Porta Nigra, one of the best-preserved Roman city gates. After our visit, you'll have some free time to sight see on your own before heading back to the ship in Saarburg.
The afternoon will be spent cruising along the Sarre and the Mosel towards Remich. Join us for an evening of entertainment.
DAY 6: Remich – Luxembourg – Remich
This morning, join us for an optional visit to a winery complete with a tasting. Seven pioneering men of the region recognized the magic of the huge calcareous rock downstream from Remich. They cultivated the first vineyards now infamous for its sparkling wines. In 1919, in the aftermath of World War I, they set up the Caves St. Martin. You'll discover the secrets to wine making while strolling through the underground passages that seem to go on for miles. After our tour, we'll go to the historical center of Remich where you can enjoy some free time on your own. Also called the "Pearl of the Mosel," this charming city is surrounded by an outstanding panorama of vineyards and forests. Take a stroll along the several miles of promenade in the shade of the trees along the Mosel or sit back on a cozy terrace for some more wine.
This afternoon, Join us for an optional guided tour of Luxembourg. Leave from Remich for Luxembourg by coach. Luxembourg is a real mix of styles and cultures. We'll set out on a guided tour on foot to get a closer look at some of the sites, including the Place des Armes, Place de la Constitution, capital buildings, Corniche, old city, Grand Ducal Palace (exterior), and Place Guillaume II. After our tour, enjoy some free time before returning to the ship in Remich.
After our excursion, we'll return on board our ship. Tonight is our festive gala evening.
DAY 7: Remich
Buffet breakfast on board. Disembark at 9:00 a.m
River cruises in Europe offers a great opportunity to see so much more of Europe than on your own and with a river cruise, most of your costs are includes – such as food, transportation, accommodations and touring. You travel with others that you can share this wonderful experience with and have staff that can assist in independent exploring if you want to go off on your own.
We have many cruise itineraries to offer on the many rivers of Europe – from 3 night to more than 14 nights. We have promotions throughout the year on various cruises – so check with us for the perfect cruise. 888-869-7907 jan@europeanbarging.com