Travel Along the Danube River to Esztergom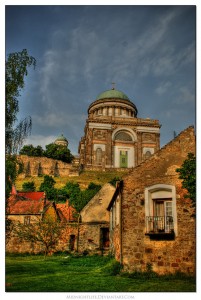 Esztergom is a small town near Budapest in Hungary. It is located on the right bank of the river Danube which defines the border between Slovakia and Hungary. It came into existence around A.D. 972 and since then has consistently played an important role in Hungary's history.
Esztergom was the capital of Hungary from the 10th to mid-13th century when King Béla IV of Hungary shifted the royal seat to Buda. The first Hungarian king, St. Stephen's birth and coronation ceremony took place here only. Esztergom takes pride in being home to the Hungarian Catholic Church as well as to the Basilica of Esztergom, a paragon of Classicism, the largest church in Hungary and the third largest church in Europe.
Visit Castle Hill and Basilica of Estergom
The Basilica is the emblem of Esztergom. It is situated on Castle Hill, and its 72m-high central dome is quite visible for several kilometers around. The construction of the building of current neoclassical church started in 1822 on the site of its 12th-century equivalent demolished by the Turks. During the final stages of construction, József Hild, who designed the cathedral at Eger, was involved. The basilica was sanctified in 1856 with a choral Mass composed by Franz Liszt.
As you stand in front of the building, its dramatic size is very impressive. Inside the Basilica, you will be thrilled to see the world's largest altar-piece. It was created by Grigoletto who painted it on a single canvas picturing the ascension of Madonna. Organ and choir concerts inside the cool interior are a great attraction for visitors.
The Bakócz chapel (Bakócz-kápolna) situated on the southern side of the basilica is the most cherished relic of Hungarian Renaissance.
The chapel was built from red marble by Italian masters for Tamás Bakócz archbishop in 1506-07. Its altar has been created from Carrarre marble. The chapel originally used to be more towards the south. It was taken into 1600 pieces and rebuilt inside the Basilica in 1823.
There is no entry fee for the Basilica.
The colossal basilica of Esztergom, sitting high above the town and Danube River, is a magnificent sight that you can't afford to miss. Book our Danube river cruise and visit the wonderful town of Esztergom and its incredible treasures!
For more information contact: Europeanbarging, 888-869-7907, jan@europeanbarging.com