Chioggia – A Miniature Version of Venice
Chioggia is a port and fishing town in the southern part of the Lagoon of Venice. It is located in the Veneto region on Italy's east coast; about 25 km south of Venice .The town of Chioggia is separated from the Sottomarina beaches on the Adriatic sea by Laguna del Lusenzo.
Chioggia is a miniature version of Venice and so popularly known as Little Venice. During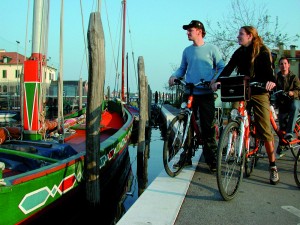 summer season, Chioggia makes a good base for exploring Venice. The hotels, restaurants and bars in this town are less expensive than those in Venice.
Italy Barge Cruise- Explore the Beautiful Tradition
Situated on a small island, the town of Chioggia is linked to the mainland by several low bridges, at the SE extremity of the Venetian Lagoon. Chioggia has a medieval maze like appearance with narrow lanes which abruptly end in canals or waterfront promenades with views over the lagoon or the sandy spit of land that protects Chioggia from the strong force of the Adriatic.
The town of Chioggia is renowned for the traditional lace making skills of its women. However, today the town mainly survives on fishing and tourism. Along with its companion seaside resort town of Sottomarina half a mile E, Chioggia offers several safe and secure berthing options for yachts.
Italy Barge Cruise- Book Your Cruise Today
If you book your holiday on one of our Italy barge cruises, one of your stops will be at Chioggia. This miniature version of Venice has few canals and Canale Vena is main among them. The town also has characteristic narrow streets known as calli. Chioggia has several medieval churches, much modified and developed in the period of its greatest prosperity in the 16th and 17th centuries.
The church of S. Maria, founded in the eleventh century, became a cathedral in 1110, and then was rebuilt from 1623 by Baldassare Longhena. Low pretty houses, long arcades and the beautiful cathedral of S. Maria give this region of Venice a very special atmosphere and make it a must visit place.
Another attraction in Chioggia is church of St. Andrew (18th century) which has a bell tower from the 11th-12th centuries, provided with the most ancient tower watch in the world. The interior of the church has a Crucifixion by Palma the Elder.
Chioggia is a delightful place with its Venice character and other wonderful attractions. Book your holiday on one of our Deluxe Barges or Casual Bike and Barge Cruises to Italy and enjoy a trip to this wonderful Little Venice! For more information, please contact us!