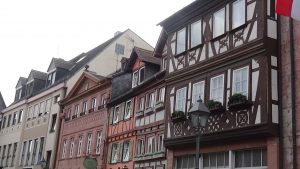 The medieval town of Miltenberg, along the Main River,  has the most enchanting medieval charm around every cobblestone street, narrow alleys, and half-timbered houses, window baskets overflowing with fresh petunia flowers add to the flavor of the town.   Tourism plays  a major part in the local economy. In the Old Market Square is surrounded  by half timbered buildings, restaurants, bratwurst stalls, local handcraft stalls and the Old Town Hall as well. These structures are still in remarkable shape in spite of having been built in the 16th and 17th centuries.   The town also has 2 surviving gates from the Middle Ages – The Wurzburg Gate and the Mainz Gate.
Referred to as "The Pearl of the Main River", today the city has a population of 9,000 – It was originally settled in  pre-Roman times and has enjoyed a rich and lively past. Being located near the Main River, it was a major trading location between Frankfurt and Nuremberg
A popular destination in Miltenberg is the famous hotel Gasrhaus zum Riesen.  Maybe the oldest hotel in all of Germany, originally built about 1411. Rebuilt nearly 200 years later in the half-timbered, Renaissance style. The hotel has since been renovated to include some more modern amenities.
Main attractions  in Miltenberg are: Miltenberg Castle (built in 11th century, the castle is now used as a museum of old and modern art work – Museum.Stadt.Miltenberg),  Fraenkischer Rotwein Wanderweg (medieval architecture), Brauhaus Faust (brewery), Mainbrucke, (a beautiful Bridge),  St. Kilian Kellerei, (Wine cellar).
Main festivals include –  the first weekend in July, the Town Festival (Stadtfest) is held;  In late July, the Mildenburger Theatertage ("Theatre Days") takes place; beginning on the last weekend in August and for ten days, the Michaelismesse ("St Michael's Fair"), the biggest fair on the Bavarian Lower Main (Bayerischer Untermain), is held (despite the similarity in names, it is not Michaelmas, which falls on 29 September, a month later).
One of the best ways to visit Miltenberg is from a Rhine/Main/Danube River Cruise. Check out our video on Miltenberg.  We have cruises available on AmaWaterways, Arosa, CroisiEurope and Amadeus Cruises and can assist in finding the perfect cruise for you.  Europeanbarging.com  888-869-7907