A mix of excitement and laid back is what you can find in Bilbao, Spain. There's a vibrant vibe of shopping in the trendy marketplaces and the nightlife in lively bars. On the other hand, there's a historic and relaxed feel in the contemporary art and architecture of the museums and old buildings. Exploring this city in the northern part of Spain's Basque region gives you a versatile selection of activities to engage in for the best European vacation.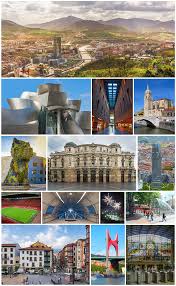 Here are some of the places you can visit in Bilbao, Spain:
Museums — the museums in Bilbao are globally acclaimed. The Guggenheim is one of the world's most popular both for its shape and structure and for the contemporary art work that's exhibited within its walls. The Museo Bellas Artes chronicles a hundred years of history and ten centuries of art. It showcases works of such artists as Picasso and Goya as well as of more contemporary local artists. Other museums that deserve a slot in your must-visit list are: the Archeological Museum, the Maritime Museum, and the Bullfighting Museum
Local Scene — Bilbao is a great place to wine and dine. One Michelin restaurant, Restaurante de Mina, can be found right across from Mercado de la Ribera. It would be necessary to call in for a reservation since the restaurant can only seat less than thirty guests. The gustatory experience is truly extraordinary with meticulously prepared courses using the freshest local ingredients. Those specifically looking to feast on authentic Spanish paella, however, can go to either one of La Barraca's two Bilbao locations. They offer a dozen paella variants for you to choose from based on your preferred 'star' ingredients.
For shopping, there's Mercado de la Ribera for fresh products and a good dose of local flavor – both food and culture. This is an interesting visit for food lovers and people watchers alike. Fashionistas, on the other hand, can delight their hearts at Choses de Femme and Veritas. To wind up your day after shopping, don't forget to sample Bilbao's pintxos too.
Architecture — one of famed architect Frank Gehry's masterpiece is the Guggenheim in Bilbao. It's unique shape and titanium construction is a display of the post modern disjointed style that Gehry is known for.
Another architectural work of art is the Azkuna Zentro commercial center. It traces a rich history from its roots as Alhondiga Bilbao, a corn exchange, to a thriving and dynamic multi-purpose venue today.
The old churches are always on the list when it comes to places of architectural curiosity is concerned. The Bilbao Santiago Cathedral is one of the must-visit places when it comes to 15th century architecture.
Nature — Bilbao has its own share of beautiful landscapes and sceneries to enjoy with its mountains and beaches. Just a short 15-minute drive from the city center will give you a picturesque countryside trip and take you to Azurmendi, a three-star Michelin restaurant set right on the mountainside. Those who have visited this restaurant describe the experience of walking through its interiors and being handed extraordinary unique treats – like edible cotton topped with asparagus and gold leaf covered hazelnuts – as being like Alice in Wonderland.
A quick outdoor escape can be enjoyed with a hike in Artxanda Hill and surfing at Sopelana Beach. You can also head on north to marvel at Bilbao's unique geography and landscapes.
The Best of Basque
Bilbao, Spain is truly a destination for everyone. You have a choice to explore cities that match your own personality or go out of your comfort zone to try something different. Whatever road you take, you will never run out of options to delight your senses and give you the best vacation that you deserve.
AmaWaterways offers a 7 night Taste of Bordeaux, which features a pre cruise land program with 2 nights in Bilbao. A March 25, 2021 departure will be a wine themed Bordeaux itinerary hosted by Award Winning Texas Messina Hof Winery owners – Paul  and Merrill Bonarrigo.  These wine cruises sell out quick, so contact Europeanbarging for information on either the wine themed Bordeaux cruise or the Taste of Bordeaux cruise itinerary at 888-869-7907  jan@europeanbarging.com